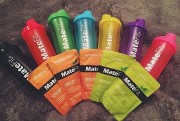 MateFit, the US based online Lifestyle Teatox & Supplements provider, Wishes You & Your Family a very Happy, Prosperous & Successful New Year. The company announces a 20% discount on all MateFit Products for this new year, to those who want to boost their metabolism and remove unwanted pounds.
USA, January 1, 2016 (Newswire.com) - MateFit is grateful to have wonderful customers like you who are health conscious, looking for lifestyle products. This New Year we thank you for providing us the opportunity to serve you MateFit Products and we promise to make your experience a satisfying and enriching one in the coming days.
According to the company, the quality of MateFit products are verified by more than 30,000 Loyal Customer Reviews. Your support has been the key ingredient to our success.
As a part of New Year deals, MateFit has announced a 20% discount coupon on any purchase from MateFit.me for a limited time period up to Jan-31-2016. Consumers who are physique and health conscious individuals can appreciate the substantial savings on all MateFit products. MateFit looks forward to serve you in coming days with herbal and vegan based products.
About MateFit: In just a few years since its inception, MateFit is proud of its position as a forerunner in its niche market, which has no room for faulty compositions, or less than perfect health supplements. Based in US, MateFit has now become a reliable destination for those individuals who wish to purchase MateFit teatox tea, detox tea, other supplements, and fitness apparel on line.
Contact Information: 
MateFit
USA
Website: http://matefit.me/
Share: