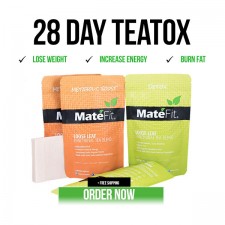 News
•
updated: Oct 26, 2016
✓Price: $40.99 ✓Quantity: 210 grams ✓Reviews: 9,000 ✓Servings: 70 Tea cups ✓Try it out our # 1 weight loss 28 day teatox hot and smart, jump start program. We have 32,000 Positive Reviews overall. Cheapest detox program you can justify by looking the over all reviews that our 28 day teatox products will be the best one and serve combined 70 cups of tea including Daytime and night time s
✓ 28 Day Teatox Price | Quantity | Reviews | Number of Servings | You decide to try out | Price cut
✓ Price: $40.99 ( Free Shipping in the USA )
✓ Quantity of the products: 210 grams or 7.40753 ounces
✓ Reviews: over 9,000 +
✓ Number of Servings: 70 tea cups
✓ 60 Cents/Cup Sale 28 Day Ultimate Teatox with 9,000 positive Reviews and enhanced formula that helps to detox your body to lose weight fast and get skinny, Cleanse, Improve Health from Mate Fit Tea - on sale
✓ 32,000 Positive Reviews overall satisfied customers that make MateFit Teatox company is the highest reviews and leader in product reviews in the teatox and supplements online business.
✓ Free Shipping in the USA
✓ more than 350,000 Customers base.
✓ Made in the United States.
✓ Help in weight loss to become Skinny with Mint flavor Mate Fit Tea - on Sale!
✓ What you get in MateFit 28 Day Teatox program: best teatox in the market.
MateFit Teatox is 2 step process , you need to consume Day time and Night time
1) Daytime Tea: Metabolic Boost comes in 2 pouches each 70 grams total 140 grams, so you can make up to 56 (2.5 grams/cup ) Cups of daytime tea servings.
2) Nighttime Tea: Detox tea also comes in 2 pouches as well and each 35 grams , total 70 grams and you can make up to 14 to 16 ( 5 to 4.5 grams/cup ) Cups of night or bedtime servings.
3) Top of the above products you are also getting 2 bags of 40 count = 80 Loose leaf tea filters to use/make tea by yourself and you can adjust your need to make the tea little bit lighter or stronger.
✓ The bottom line is you are getting 70 servings of teatox / detox / energy boost tea, again the price tag of MateFit Teatox tea cup is equal or less than 60 cents ($0.60) which are very less to compare at Starbucks coffee.
the following prices are a courtesy of Starbucks website*
Food Size Price
Teavana® Shaken Iced Tea Trenta $2.95
Teavana® Shaken Iced Peach Green Tea Lemonade Tall $2.75
Teavana® Shaken Iced Peach Green Tea Lemonade Grande $3.25
Teavana® Shaken Iced Peach Green Tea Lemonade Venti $3.75
Share: